F a c e S h o p p i n g .
A.P. Komen has distinguished himself by his video installations, sometimes made in cooperation with Karen Murphy, which, in various ways, give expression to the manner in which memory, communication and communication media influence each other. How does our memory function, and by what factors can it be controlled? What is the value of a memory, and, at what point, does 'truth' turn into fiction, or vice versa? Does the effect of modern means of communication change our views on what is private and what is public? Are media capable of making something visible which would otherwise remain hidden, or do they rather cover things up? To explore these questions, the viewers are addressed by Komen, or A.P. Komen/Karen Murphy, as a passive and objective audience, or rather, are manoeuvred into the role of voyeur.
In Komen/Murphy's Panic Wagon, you see video projections of three young women, who, looking straight into the camera, are attempting to reconstruct an event from the past. They take turns, so that their memories only unfold bit-by-bit. The three women turn out to be sisters, who are telling the same story, but each from a different perspective, so that the interpretations, memories and emotions of something they once experienced together sometimes differ considerably.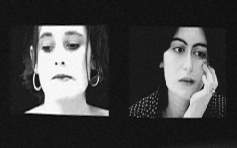 In Komen/Murphy's A Ghost Story, too, the different memories of previous occupants of an allegedly haunted house are presented side-by-side, so that memory, fiction and reality gradually become more and more entangled. Neither in Panic Wagon nor in A Ghost Story do the 'truth' and the true circumstances seem to exist any more - they were lost forever at the moment when the incident, the event, took place.
For Couples, Komen tapped four car-phone conversations, which he combined with home-video-type images, filmed from a voyeurist standpoint. The private conversations and the intimate images to which you are a confidant, but which are in fact none of your business, not only arouse your curiosity, but also fascinate and embarrass you.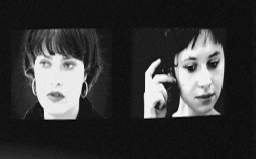 With Face Shopping, Komen plays on our own voyeuristic inclinations, while trying to expose something that would far rather stay hidden or at least unnoticed. On four large, connected projection screens, we can see close-ups of young women, twelve in all, each with a nervous twitch. One woman constantly fidgets with her hair, another almost neurotically drags on her cigarette, while yet another twitches her eyelids.
Komen turned these 'tics' into loops, so that they are repeated every few seconds, and for sound he uses fragments of the filmed models' breathing, which he isolated from messages they left on his answering machine. As if you were window shopping, and you can gaze at these faces in amazement, catching them at those forgotten moments of unconscious behaviour. It seems as though it is your own inquisitive glance which makes these ladies so nervous...
Our facial expression is determined by impulses from inside and out. In between, it sometimes goes frantic. In Face Shopping, the face paradoxically shows itself both as the mirror of the soul and as a mask meant to hide the inner self.

Jorinde Seijdel